Roots of Faith is a Biblical teaching and resource center operated by Ross K. Nichols, as an outreach effort of United Israel World Union. Ross Nichols is a Vice-President of UIWU and an ordained teacher since 2003. Each week, a growing global congregation assembles on-line to learn ancient truth for a modern world.
Every Saturday morning at 10:30 AM CST, Ross presents an informative lesson, meant to inspire people to live a more authentically biblical lifestyle. During the live broadcast, on-line participants can share their views and express their opinions so long as they do so in a respectful manner.
What makes these classes refreshing is that the focus of the teaching is on the Scriptures themselves. While tradition and sectarian views are respected, and even discussed at times, the Biblical texts take precedence. All are welcome participants in our growing global on-line community. The classes present the biblical texts, "from the words, in connection with the words and on the basis of the words."
The teachings have been described with kind words from our listeners. They have been described as instructive, insightful, fresh, realistic, challenging, and eye opening. While the teachings often present conclusions that stand in opposition to fundamentally accepted beliefs, the presentation and delivery have been described as sensitive, respectful, and humble. The goal is to make the teachings of the Bible plain so that those who wish to live accordingly may be prepared and encouraged to do so.
The ancient teachings of the Hebrew Scriptures are presented as relevant instruction for today, thus the slogan of Roots of Faith is, "Ancient truth for a modern world."
One can join our services weekly via our YouTube channel, or for those who cannot join in live, the lessons are archived on our site as well as YouTube and iTunes where they can be downloaded to your personal devices and listened to at your convenience.
If you are looking for a place where the Scriptures are proclaimed from their original and thoroughly Hebraic perspective, and where anyone who believes in the God of Israel and seeks to live according to the principles of the Hebrew Bible is welcome, then Roots of Faith may be what you have been looking for.

About Shushan in Our Logo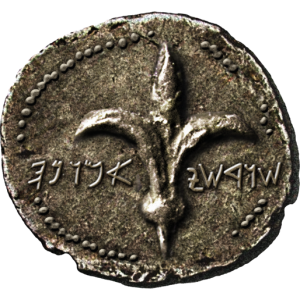 According to the Hebrew Bible, the lily flower or shushan was incorporated into the design of the Hebrew Temple (I Kings 7:19, 22, 26). It was also featured on ancient Hebrew coinage. The prophet Hosea compares returning Israel to a blossoming lily (Hosea 14:5). Nobility often used the lily flower, particularly the French by the designation Fleur De Lis, and because of its rich French heritage, Louisiana places special significance on the lily.
Designer, Daniel M. Wright masterfully blended these elements and coin became part of logo for Louisiana based religious educational ministry, Roots of Faith.
The design was inspired by a 4th Century BCE Yehud coin, which also featured the shushan flower. The inscription is in Paleo Hebrew and says, Shorshei Emunah, which is translated as Roots of Faith. The words were written by Ross Nichols in this ancient script and incorporated into the logo's design.
Roots of Faith Links (click below)